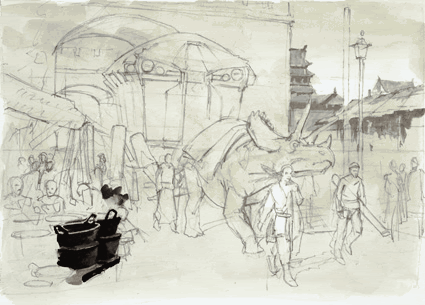 Hey, gang, Lorin said it was OK to post stuff from NBM2, so here's a process gif.
The scene shows a crab sprog, one of the strutters of Poseidos. These eight-leggers serve mobile surveillance and detention duty. It's patrolling the eastern seaport city of Prosperine, where the Saurian Knights maintain clandestine headquarters. Sprogs can deploy smaller strutters and drones to scout the alleys of the inner marketplace.
The original is 7x10 inches, painted in watercolor and water-soluble colored pencils in a
Cottonwood Arts
cold press watercolor booklet, thanks to the ever-awesome
John Park
.